I have always been an avid reader. When I was in the 7th grade, I read a book called "
Alex: The Life Of a Child" by Frank Deford
.
It was an incredibly emotional book, and it left a deep impression on me. Ever since reading that book, I have had an interest in children and families who struggle with Cystic Fibrosis. I work with them quite frequently in my work as a pediatric nurse, and I always wish there was something more I could do. I also have a friend, Marchet, whose son has CF. She is an
amazing photographer
, a fantastic mom, and handles all of it with a great deal of grace.
I am going to join them this year, as a member of the team "Peter's Pavement Pounders"! We are going to walk on May 15th to raise money for CF research.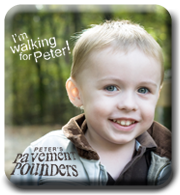 The 'Alex' from the above book lived from 1972-1980. In many ways, the treatment for CF is so much different than what they did in this book, but in so many other ways, it hasn't changed nearly enough. Kids with CF need better drugs, improved treatments, and a better prognosis. Money to fund research will have a direct effect on both the QUALITY and QUANTITY of life they will have.
Please consider sponsoring me and my family in this walk! Just a mere $10, when added all together, can make a big difference!
Just click on over to make a donation
! Please help me make my goal!